Updated 12.19.2022
Where can I find Gift Cards?
Our Gift Cards can be found in the Shop>Gifts tab of our website. A Gift Card is available in a flat dollar amount or the sender can gift Wine Club with the Digital Wine Club Gift Card.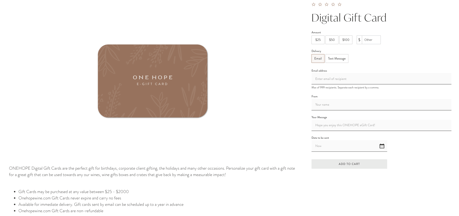 Will CEs earn commission on purchased gift cards?
Yes, CEs will earn 85% commission on all gift cards at the time of the purchase. There will not be any PCV awarded when the gift card is redeemed.
Can CEs shop for gift cards in Concierge Mode?
Yes, they can!

Can customers input a custom value amount when purchasing a gift card?
Yes. The customer must enter a value between $25-$2000. This max limit is to prevent fraud.


How will the gift cards be delivered to the recipient?
The purchaser will have the option of selecting SMS text or email delivery. The delivery date can also be specified for immediate delivery or a scheduled delivery date.
Can customers use rewards points to purchase gift cards?
Yes, we will allow the use of reward points to purchase gift cards.
Will customers gain rewards points from purchasing gift cards?
Yes, standard 5% reward points will apply for a customer or Wine Club member.
Can customers or CEs use their promo codes to purchase discounted gift cards?
No. Digital Gift Cards are not eligible to receive discounts or go on sale.
Can customers purchase more than 1 gift card at the same time for multiple recipients?
Yes. We have a "bulk add" option. This allows the customer to separate the recipients by a comma so that multiple cards can be purchased at the same time. The customer will need to specify if these will be delivered via Email or SMS Text Delivery.
Will there be a personalized note section when sending this gift card?
Yes! There will be a limit of 500 characters.
Will the gift card be connected to the recipient via their email or phone number?
No. The gift card will be delivered in the form of a promo code.
Can gift cards be returned?
No, gift cards are non-refundable.
Can gift cards be used for custom gifting or corporate gifting orders?
Any offline or custom orders will NOT be eligible to use a gift card for the purchase.
Do gift card purchases count toward the event total?
Yes
What is the shipping on the Gift Cards?
There are no shipping charges as this is a digital gift card, not a physical gift card.
What is the difference between regular digital Gift Cards and Wine Club Gift Cards?
The value for a regular digital Gift Card and a Wine Club Gift Card is the same, however, buying a Wine Club Gift Card allows the purchaser to calculate a total based on the subscription value they would like to gift.

How are the average costs of the Wine Club Gift Card builder calculated?
The average costs are calculated based on an average of $30 per bottle. The reasoning was that customers may want a mix of different wines to include Reserve wines as well.
Can gift cards be used on Join Kits?
At this time, gift cards can only be used toward a customer purchase and cannot be used towards the purchase of a Join Kit.