Use the Reach Out: "Find Hosts & Share Your Event Kit Credit" to share a quick message and 3-question quiz to help you find your next Host!
This Reach Out offer was created for CEs to have a turnkey way to reach out to and find potential Hosts. If the CE has an Event Kit Credit to share, they will be able to access this offer in their "Reach Outs" tab of the CE Back Office or in the iOS app under Menu>Reach Outs.

We've created a simple message to share with a link to a quick 3 question quiz. The goal is for a CE to be able to review the answers and evaluate if that Host is ready to get a Fundraising Event booked. If they are, the CE can decide whom to gift their Event Kit Credit to!

Please note: You will only be able to share this Reach Out if you have one or more Event
Kit Credits in your account. It's important to manage communication with your potential
Host in a way that allows the Host to confirm their participation and the date of the event
before you commit to sharing the 6-bottle Event Kit Credit!
Ideally, you will want to offer the credit to the Host who has the next fundraising event on
your calendar, and not one who wants to book 2 months out. This way you are
consistently booking and holding a qualified event and able to earn a new Event Kit
Credit for each event you hold, so you can continue to pay it forward to your next Host!

Watch the demo of how this Reach Out can be shared, here in the Training Center
---

Here is a preview of the 3-questions you'll be asking your contacts: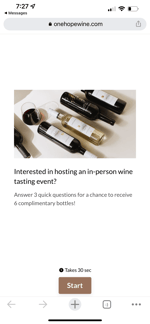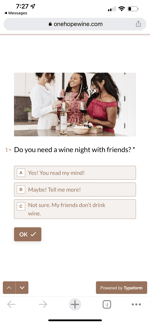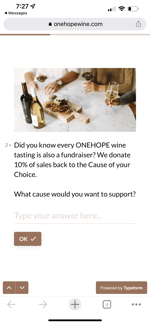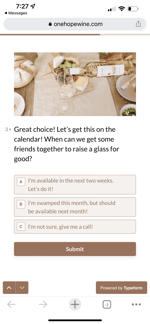 ---

To Redeem or gift the Event Kit Credit you can:
1) Apply one credit towards six bottles of wine when creating a new event.
2) Once your In-Person event has been created through "Events" in your CE Back Office or iOS app you or the Host can select the wine for the tasting by using the event's unique ordering link.
Learn more about how to redeem an Event Kit Credit in the Training Center.

Don't have any Event Kit Credits in the bank? No worries, an Event Kit can be purchased at a 40% discount starting at $99 for six bottles. In addition, Event Kit Credits can also be earned by a CE for closing a qualifying event! Learn more, here.
Please note: Event Kit Credits have a 60 Day expiration date after being issued.

What to do if a host cancels their event and you already used the credit -
If you have applied the Event Kit Credit to an event but haven't ordered the wine yet, you can
edit the "wine" details in the event manager and remove the Event Kit Credit and use it for a
different event.

In the rare occasion that your Host needs to cancel their fundraising event and the wine has
already been ordered, you should be able to edit the event details (date/time), etc, and keep
this Event Kit Credit attached to their upcoming event, once a new time is agreed upon.

Please reach out to Customer support with any additional questions.

Updated 10/18/22