How do I order wine for my event?
Cause Entrepreneurs and Hosts can order discounted cases of wine for their in-person events. 6-bottle cases of event wine can be purchased starting at $99 or 12-bottle cases starting at $198. To purchase a case of event wine, you can either create a new in-person event in your Back Office or modify an existing event.
If you are creating a new in-person event, when asked "Do you need wine for this event?" select "Yes." Then, proceed to select either 6 bottles or 12 bottles and select whether you or the host will be selecting the wine. If the host is selecting the wine, they will receive a special private link via email that will take them to the event wine purchase flow.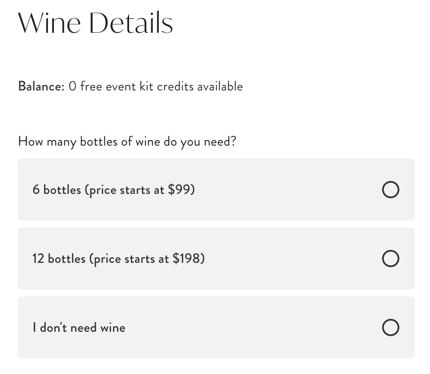 If you want event wine to be purchased for an existing event, simply navigate to that event in your Back Office. Click on the "summary" tab and scroll down to "wine details". Click on the pencil to edit your selection.
Once you select the amount of wine you need, click the "save" button and a shop link will be created to order the event wine.