How do I import my contacts?
In the Back Office Contact tab, select the import button and the preferred service to import contacts (Google, Outlook, Yahoo, CSV, etc).
On the iOS Contact's tab, import your contacts by selecting the (+) on the top right
> Import Contacts > Select the contacts from your iOS Contacts Book.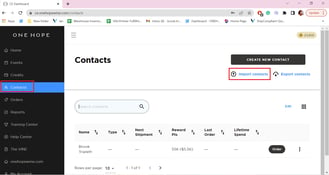 What information is needed to import or create a contact?
The first name is only required to import or create a contact.
However, when it is time to order for the contact we will require the Last Name, Email, and Date of birth (21+) so we can create an account for the contact.

I already created or imported contacts in the Back Office. Will I have to import or create my
contacts again in the mobile app?
No, any existing contacts will import to your iOS device automatically.

Will contacts I create or import in the iOS app sync with the Back Office web version?
Yes, contacts will sync between all platforms.

Can I order for a contact through the iOS App?
Yes, you can order for your customer in their profile. The contact must have a First and Last Name, DOB (21+), and email so we can create an account. You will need to get permission from the customer to shop for them if they have an account already or are shopping with another CE.

Can I edit my contact's profile?
Yes, you can edit a contact's profile unless that contact is another CE. If the contact has an account already, you will need to request permission to edit their profile.
Note: email address cannot be updated for another account.

Why do I need permission to shop for a customer?
For security purposes, when you order for a customer or edit their profile, we will tell you if you need permission from the customer and present the option to request permission. You will need to request permission if the customer is already shopping with another CE or is not linked to your account. If the customer approves to shop
for them, you will get an email notifying you that the customer has accepted.

How do I remove a contact from my list?
There is a delete contact button at the bottom of every contact profile on all platforms.