What is the ONEHOPE Master Class series?
Our 6-part Master Class Series offers live access to experts sharing their knowledge that will equip a CE in their ONEHOPE business. These classes are offered twice a week. A CE can join these classes at their own pace, in any order, and revisit them as needed to reinforce their learning.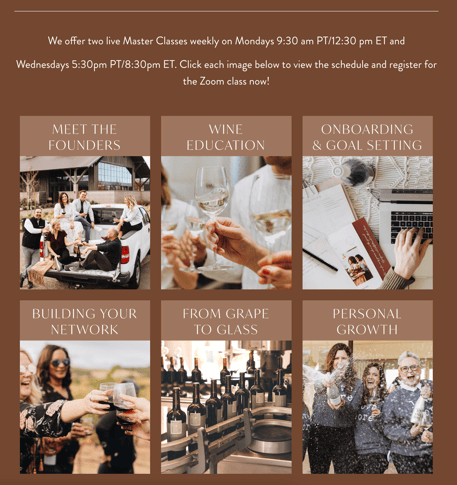 What should I expect to learn from the ONEHOPE Master Classes?
In this series, you'll have the opportunity to meet the co-founders of ONEHOPE and learn about their journey in creating a successful wine company with a purpose-driven mission. You'll also receive in-depth wine education including the history of winemaking, wine-tasting techniques, and food pairings you can share at your wine tastings.

We'll guide you through setting the framework for launching your new business and setting achievable personal and professional growth goals. We know you'll want to learn more about the wine industry, so be sure to join the Grape-to-Glass class where you'll get a behind-the-scenes look at the process of developing a wine, from the story of our labels to winemaking techniques and everything in between.

Building your network is essential in any industry, and we're here to provide you with the tools and strategies to do so effectively. Lastly, we'll focus on personal growth and development, providing valuable insights into creating a fulfilling and successful wine business.
Who are the experts that will be leading the ONEHOPE Master Classes?
You will hear from the ONEHOPE Co-Founders, our Field Development team, our amazing Winery Team, leaders in the Creative, Operations, and Gifting Teams.
When will the ONEHOPE Master Classes be offered?
Master Classes will be offered on Mondays at 9:30 AM PT/12:30 PM ET and Wednesdays at 5:30 PM PT/8:30 PM ET.
How do I get access to the ONEHOPE Master Classes?
Any CE who purchases a $399 Business Builder Kit will have access. Included in their Join Kit will be a ONEHOPE Master Class insert with a QR code that when scanned, will take them to the Master Class Landing Page. The Business Builder CEs will also receive an email a couple of days after they joined, reminding them to register.
We have also extended access to any CE that attended CRUSH 2023 in Dallas to the opportunity to purchase the exclusive series at a discounted rate of $99 through May 31, 2023. The ONEHOPE Master Class series has a value of $199.
*We announced at CRUSH that any CE who sponsors a New CE with the $399 Business Builder Kit now until May 31st, will earn FREE access to the ONEHOPE Master Classes.
**If you pay for the ONEHOPE Master Class series and later sponsor a new CE with the $399 Business Builder Kit in May, we will refund your purchase. Please reach out to Support for a refund.
How do I register for the ONEHOPE Master Classes?
Our Business Builder CEs will receive a Master Class insert, in their Join Kit, that has a QR code linking them to the registration page.
Any CE who purchases the Master Class series will receive an email with instructions on how to register. CEs that earn access through sponsoring with the Business Builder Kit will receive an email with instructions 1-2 business days after sponsoring.
Once on the ONEHOPE Master Class landing page, you will click on the class that you would like to attend and you will be taken to the Zoom registration page where you will see a drop-down menu of days and times for when that particular class will be held.