ONEHOPE gives customers and Wine Club members the opportunity to save year round on any 4, 6 or 12-pack order, while enjoying perks like FREE or $15 shipping, and reward points on every purchase. These savings and benefits will vary for customers and Wine Club members, so we have provided a breakdown of the offerings below: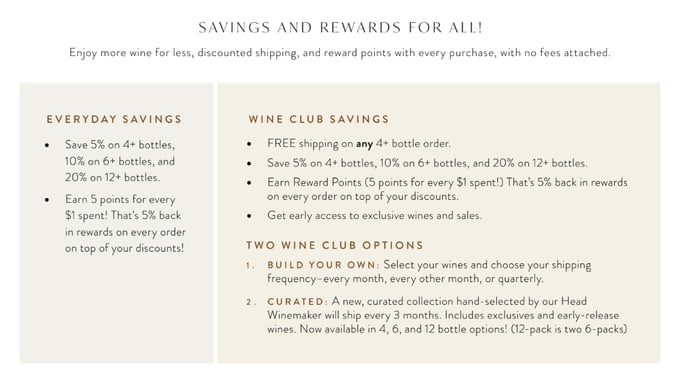 For more information about our savings and our Wine Club membership, please visit this page on our website.
Additionally, ONEHOPE offers seasonal discounts and promotions that are available to both Wine Club members and customers placing a la carte orders.

An example of these seasonal discounts is our Monthly Promotions (known internally as a Purchase with Purchase- PWP), where customers and wine club members can unlock a limited-edition pack at a steep discount, often up to 50% off, with the purchase of six bottles or more. Wine Club members can add the current month's promotion to their scheduled shipment to enjoy!

Wine Club members (New and Existing) can add the PwP promotion to their subscription on a one-time OR recurring basis. The promotion can be added to their subscriptions in two ways:
(1) Through the Wine Club Builder flow, when the initial setup of the Wine Club subscription is created
(2) In their Accounts > Wine Club > Subscription Preferences

For more information on current promotions, please visit the article: What discounts and promotions do we currently offer?