Archived As of February 2023.
To see our current fast start program click here.
Fast Start is a program designed to motivate and encourage activity and productivity as a new Cause Entrepreneur! During your Fast Start period (the month you join plus the next three full calendar months!) you will be able to earn both wine and cash bonuses! Who doesn't love that?!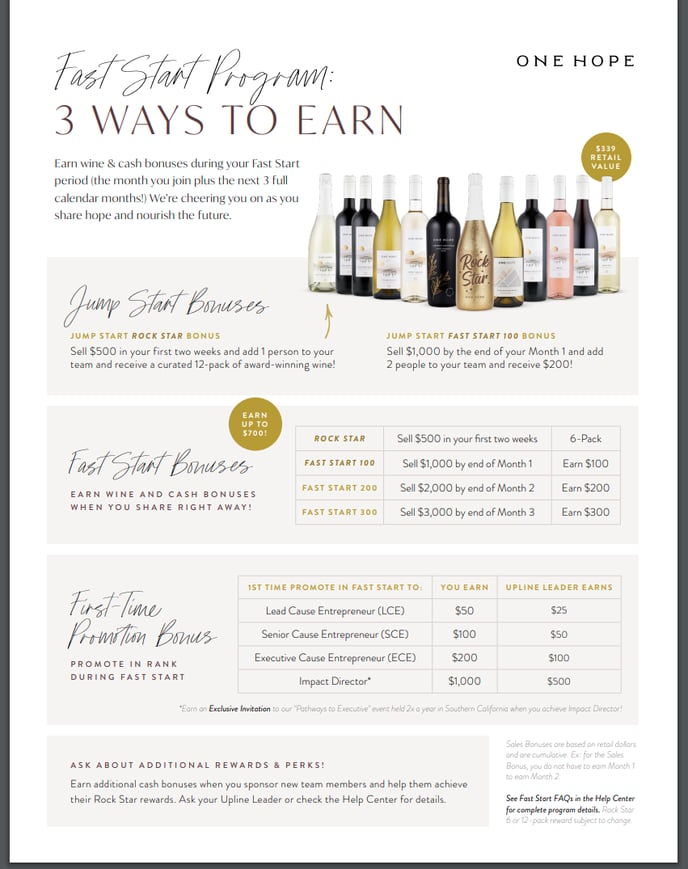 Here are some frequently asked questions regarding Fast Start:
FAST START FAQs
How does the new Fast Start program work?
Fast Start is an exciting program to help new CEs earn free wine and cash bonuses when they get into activity right away. There are four ways to earn bonuses with our Fast Start program. The three ways to earn within the Fast Start program are: (1) Jump Start Bonuses, (2) Fast Start Bonuses, and (3) 1st Time Promotion Bonuses.


What counts toward my retail sales volume in my Fast Start challenges?
The
final
retail price (not including shipping or tax) of all products purchased by you and your customers that have PCV attached to it count toward your retail sales total. This includes personal website orders, event orders and Wine Club orders. This does not include Event Kits, Host Rewards, business supplies, or CE membership.
Does discounted wine (including customer specials), count toward my retail sales?
Yes. The discounted price paid (not including shipping or tax) will count toward your retail sales.
Does the price I pay toward business supplies such as catalogs and marketplace merchandise such as t-shirts count toward my retail total?
No, since there is no PCV attached to items purchased in the CE Catalog.
Does my Join Kit purchase count toward my retail total?
Yes, your Wine Kit Add-On purchase will count toward your retail sales numbers. For example, the $59, $99 or $199 Wine Kit Add-Ons will count towards retail sales for the New CE.
Do I receive PCV for my Join Kit purchase?
A new CE will receive 50% PCV on their Wine Kit Add-On purchases. For the $59 Wine Kit Add-On, the new CE will receive 29.50 PCV. For the $99 Wine Kit Add-On, the new CE will receive 49.50 PCV. For the $199 Wine Kit Add-On, the new CE will receive 99.50 PCV.
Will I be able to look at reports to track my progress?
Yes. Go to your Back Office > My Activity > Personal Fast Start Activity Report.
When will I receive my Fast Start cash bonuses?
You will be paid your Fast Start cash bonuses on or before the 5th of the following month after you have earned them. (example: If you earned a cash bonus in July, you will receive your Fast Start Cash Bonus on or before August 5th.)
We're so excited for you to earn wine, bonuses, and promotions as you grow your business with ONEHOPE. Connect with your mentor or join us on one of our
Weekly New CE Getting Started calls
to learn which activities are the most important for you during your Fast Start! Always know that we're cheering you on every step of the way as you share wine, give hope, and nourish the future.