The ONEHOPE Wine Club is the best way for customers to expand their palate by discovering new wines while enjoying our best savings yet! Our Wine Club is offered in two formats: Build Your Own OR Curated Selections. All Wine Club members receive 5% off 4-bottle shipments, 10% off 6-bottle shipments, and 20% off 12-bottle shipments. In addition to these 5-20% savings, Wine Club members enjoy year-round perks including FREE shipping on any 4+ bottle order and 5% back in Reward Points that can be applied towards discounts on wine, or donated to a ONEHOPE featured nonprofit.
If a customer decides to Build their Own Wine Club shipment, they will be able to customize the # of bottles (4,6, or 12) and the frequency that they want them delivered (every 1,2, or 3 months).
The curated selections are offered seasonally and are selected by our Head Winemaker, Mari Wells Coyle. These shipments are sent out seasonally (Spring: February-April, Summer: May-July, Fall: August-October, and Winter: November-January) and often include exclusive, limited-edition bottles that you can't find anywhere else.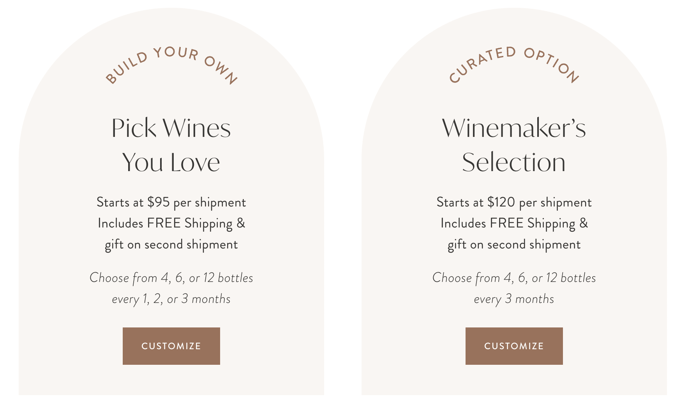 You can view our current seasonal Curated Wine Club selections here in our one-sheet overview of this season's Wine Club. For more information on our Wine Club, visit our website-Wine Club

You can also find more information on the difference between our Wine Club and Build Your Own Subscription by visiting this Help Center Article, here