What is the Pathway to Executive Event and how do I attend?
Join us for a 2-day boost to your business! This exclusive event is for Impact Directors to enjoy a President's Reception hosted by your President & Co-Founder Tiffany Wojtkiewicz. We will also provide leadership training, Recognition, and continue building our leadership culture with our new Impact Directors!
There are 2 Evergreen ways to Earn your Invitation:
1st-Time promote to Impact Director

Upline Leaders can promote 2 Impact Directors on your team* (starting from Oct 1st, 2021)
Special Invitations to attend one-time only in 2021 will be offered: 3 ways
All past** Impact Directors prior to Oct 1 2021 will be invited to attend one event

During Oct-Dec 2021: Upline Leaders can earn their invitation by: 1st time promoting 1 Impact Director

All Upline Leaders who have promoted 2 or more Impact Directors prior to October 2021, will receive an invitation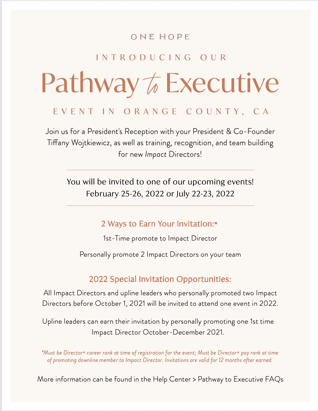 For more details, visit the FAQs!