Summer Purchase with Purchase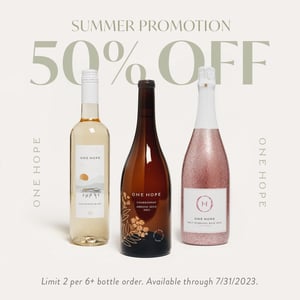 What is the Summer Purchase with Purchase (PWP)?
May 1 - July 31, add six or more bottles of wine to your cart and get this sunny trio at 50% off.
This month's customer promotion includes our Vintner Sauvignon Blanc, Arroyo Seco Chardonnay, and Pink Shimmer Sparkling Rose!
That makes this promotion $52.50 with no additional shipping charges.
How does a customer purchase the Purchase with Purchase?
All customers can unlock this deal with the purchase of 6+ bottles. Once 6+ bottles have been added to their cart, the purchase with purchase offer will appear in a pop-up window during the ordering process.
What does the pop-up offer look like when I'm checking out and what happens if it goes away?
Once you have added 6+ bottles to your cart, a small pop-up window will appear in the middle of your screen with the offer. You can start your order over to get the pop-up window again.
Is there a limit on how many PWPs can be ordered?
The Purchase with Purchase offer is limited to two (2) per order.
Can you guarantee the Purchase with Purchase will be available?
The Purchase with Purchase offer is only available while supplies last. We will alert the community if they become low in stock.
What is the shipping cost for a Purchase with Purchase order?
Shipping is free for our Purchase with Purchase add-ons, customers just pay the $15 flat rate shipping for their 6+ bottles or if they are a wine club members, shipping is free!
Is there PCV on the two bottles?
PCV on all Purchase with Purchase promotions is 50%.
Where can I find materials and shareables about this promotion?
You can find shareables here and a One Sheet in the ONEHOPE Help Center Index.
Will this promotion be shared with customers?
Yes, ONEHOPE will be reaching out to customers with emails about this promotion. This email is connected to your Individual CE ID so that you get credit for any sales. As a reminder, the customer will have to click through the email to the site, and that's when the CE ID will be applied. If you notice a customer is not connected to you when they click through to OHW.com from an email, please email support with Subject: "Connect CE ID to Customer" and in the body of the email, include your name, CE ID number, CE email address and your customer's name and email address. Keep in mind, if a customer opts out of receiving emails from ONEHOPE, they will not receive our promotion emails.